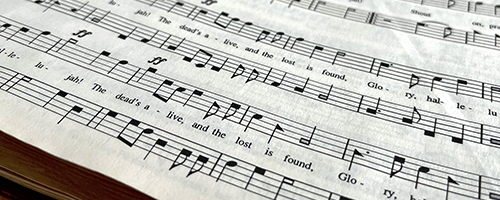 Sayeth 277 Antioch, "The dead's alive and the lost is found"— and after a long pandemic hiatus (enough time to sing Rose of Sharon at a moderate tempo nearly 350,000 times without rest), we're back in Stoeckel Hall. 
Our current plan is to sing on second and fourth Tuesdays, 7–9 pm, with our first meeting on October 11 in our old haunt: Stoeckel Hall (469 College Street), Room 106. In addition to metered street parking, free parking remains available in Lot 51, accessed on Temple Street between Wall and Elm.
Please be sure to review the notes about Covid precautions below, and reach out to us if you have any ideas, thoughts, or questions. We are so excited to come together again, and look forward to conversations about how to grow and protect our community.  
Notes about Covid-19
Non-Yale affiliates must comply with the university's Visitor Policy, which is available for your review here. At present, this means that you must be up-to-date on Covid-19 vaccination, as defined by the CDC, and should be prepared to show proof before your first time singing with us.
For the moment, we also request that all singers remain masked while singing. Note that only certain types of masks are approved for use on campus—these are ASTM masks, which are a specially-rated category of surgical mask and that we will be able to provide to singers, as well as KN95, N95, and similarly rated respirators. Cloth masks may only be worn as an over-mask while double-masking. 
Singers will be asked to provide up-to-date contact information for contact tracing, and will be asked to notify our Covid coordinator in the event they test positive within a week of attending singing. Please do not attend a singing if you are experiencing symptoms of Covid-19, even if you test negative beforehand, or are a close contact of someone with Covid.
While there are no windows to open in Room 106, Yale's Office of Environmental Health and Safety regard Stoeckel Hall as having good mechanical ventilation, and for this reason is one of the buildings on campus recommended for events and gatherings.