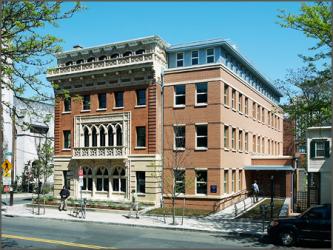 Our weekly singing is held in Room 106 of Stoeckel Hall at the corner of College and Wall streets on the Yale campus. At left is the view of Stoeckel Hall from College Street.
The street address for your GPS is 469 College Street, New Haven CT 06511.
Street parking near Stoeckel is metered until 9 pm. All meters take credit cards and coins ($1.50/hr). Please note that the Temple Street parking lot formerly available free of charge after 4 pm is no longer open for public use.